Call for papers: Nordic Arts & Health Research Network meeting on 6-7 October 2022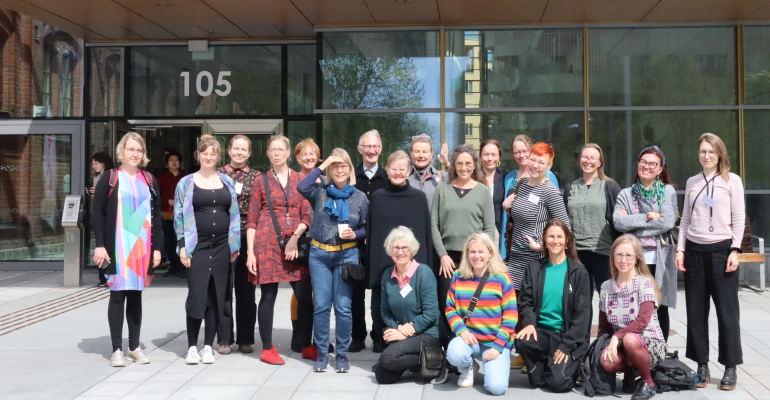 The Nordic Arts and Health Research Network will arrange their sixth network meeting on the 6th and 7th October 2022 in Levanger, Norway. The Norwegian Resource Centre for Arts and Health is hosting the meeting in Levanger, in collaboration with the public health alliance in region Trøndelag. The theme of the network meeting is "Creative Wellbeing" and the many ways in which creativity can enhance health and wellbeing across the lifespan.
We warmly welcome you to participate in two exciting days with presentations, workshops and network opportunities together with your Nordic Arts and Health colleagues, and hope to see as many of you there as possible.
The network meeting is free of charge for the network members. If you are not a member of the Nordic Arts & Health Research Network yet, please sign up here: Join the network.
Registration for the network meeting by 22nd September, 2022: https://link.webropolsurveys.com/S/D8C52AE0F8DAD7E3
CALL FOR CONTRIBUTIONS
The call for papers, workshops and poster submissions is now open (Deadline: 5 September 2022). You are invited to submit contributions on "creative wellbeing", including but not limited to the following topics:
Conceptual discussions of "creative wellbeing"
The possibilities and limitations inherent in the concept "creative wellbeing"
How creativity is linked to wellbeing in different contexts and geographical locations
The role of creativity in promoting health and wellbeing across the lifespan
How does the arts fit into discussions of creative wellbeing?
Types of contributions
Submission
Abstracts should contain the name of the presenter(s), affiliation, contact information, title of the presentation, type of contribution, aims and key findings/reflections/topics explored. Please submit an abstract of your planned contribution with a maximum of 250 words to Wenche Torrissen torrissen@hivolda.no before 5 September 2022. The email must be marked with: Paper Nordic arts & health network 2022.
Getting to Levanger:
The easiest way to travel to Levanger is by plane to Trondheim and then train to Levanger station from the airport. The train leaves from Trondheim airport Værnes approximately every hour.
Accommodation:
We have reserved rooms at Thon Hotel Backlund at a special price for the network members. Please contact the hotel directly before 5 September to secure a room at this price. To book a room, send e-mail to julie.vangen@olavthon.no and enter code 29894777.
More information about the meeting (keynotes, programme etc.) will be updated by early September.
For more information, you can contact:
Liisa Laitinen, Advisor, Arts & Health
Turku University of Applied Sciences
liisa.laitinen@turkuamk.fi,  +358 50 468 7263