Programme: Nordic Arts & Health Research Network meeting 22nd – 23rd September 2020 (online)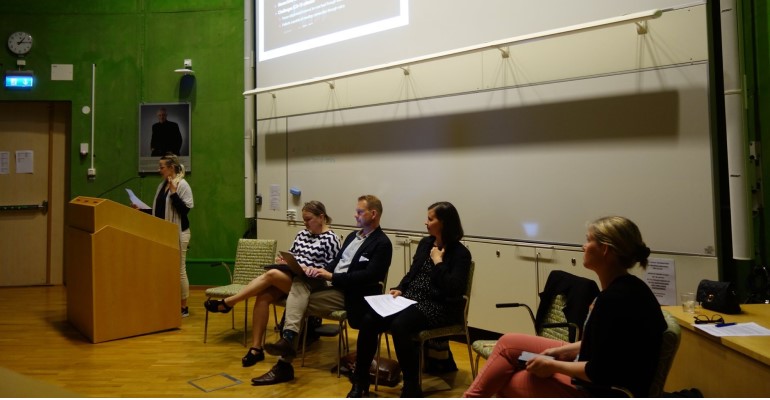 Warmly welcome to the next Nordic Arts & Health Research Network meeting on 22nd -23rd September 2020. Due to the uncertain Covid-19 situation, the network meeting is organized online (via Zoom). The programme starts both days at 9am (CET).
The theme of the network meeting is arts & health education. The theme includes topics such as:
The role of the arts in medicine and health care education
Exploring the role of the arts in promoting health and wellbeing in kindergarten, primary, secondary and higher education.
The status of existing arts and health educational programmes in the Nordic region
Defining the artist-educator-researcher in the 21st century
Sign up for the network meeting before 15th September 2020:  https://link.webropolsurveys.com/S/FAFDD5479C1E1036
If you are not a member of the Nordic Arts & Health Research Network yet, please sign up here.
You can download the programme with abstracts here.
Programme:
Tuesday 22nd

9.00 – 9.15                             Welcome
9.15 – 10.15                            Keynote: Audun Myskja: Music-based caregiving – improving dementia care
Audun Myskja, MD, PhD, has worked for several decades to develop methods to use song, music, dance and creative expression to improve psychosocial and environmental approaches to the care of dementia, Parkinson, psychiatry and developmental disorders. The PhD project Integrated music has been pivotal in the development of Music-based caregiving.
Abstract: Music-based caregiving (MCB) is a systematic approach to the use of music as supplementary treatment in dementia care, developed at The Norwegian Resource Centre for Arts and Health, North University, Levanger. The innovative method can be taught staff on all levels of musical competence, ensuring continuity in the use of music as a therapeutic tool. MCB contains elements like optimalizing the sound environment, specific assessment of preference as a foundation for choices of individualized music, care singing in procedures and developing competence both in active and passive music modalities, administered one on one or in groups.
MCB has spread to a number of regions in Norway, endorsed by the Norwegian Health Directory, and is currently being investigated in a large RCT on pain and agitation in dementia. The versatility of MCB has led to new pilot projects in schools and wards for care of mentally and developmentally challenged groups. Dr. Myskja`s keynote lecture will focus on education in MCB and the national teaching program designed and delivered by The Norwegian Resource Centre for Arts and Health, but will also cover the development and scientific base of MCB, the elements of MCB, MCB – areas of application and notes on implementation – success factors and caveats.
10.15 – 10.25                          Break
10.25 – 10.45                          Anita Jensen (Primary Healthcare, Region Skåne) & Max Liljefors (Lund University): Joining Forces in Arts and Health Education: Adopting an inter-disciplinary approach when designing an Arts and Health course
10.45 – 11.05                          Ellen Foyn Bruun (Norwegian University of Science and Technology): Drama education and mental health
11.05 – 11.15                          Break
11.15 – 11.35                          Liisa-Maria Lilja-Viherlampi (Turku University of Applied Sciences):
Arts, Health and Wellbeing – Creative Wellbeing. The New Multiprofessional Master Program of Turku University of Applied Sciences
11.35 – 11.50                          Mona Ødegården (Medical Museum, NTNU/St. Olavs hospital) & Anja Johansen (Medicine and Health Library, NTNU): Addressing anxiety through art and graphic storytelling
11.50 – 12.10                        Laura Huhtinen-Hildén (Helsinki Metropolia University of Applied Sciences): CRASH- Creativity and Arts in Social and Health Fields – Master's Programme
12.10 – 12.20                         Summary of the day
Wednesday 23rd
9.00 – 9.10                              Welcome
9.10 – 10.10                            Keynote: Ross Prior (University of Wolverhampton, UK): Educating Well: A Future Paradigm for Applied Arts and Health Education
Ross W. Prior is Professor of Learning and Teaching in the Arts in Higher Education at the University of Wolverhampton, United Kingdom. He is the founding principal editor of the Journal of Applied Arts and Health, established in 2010 and published by Intellect. He is author of numerous publications including his books Teaching Actors: Knowledge Transfer in Actor Training and Using Art as Research in Learning and Teaching. Professor Prior is a member of the Arts and Humanities Research Council (AHRC) Peer Review College, Fellow of the Royal Society for Public Health and Principal Fellow of the Higher Education Academy.
Abstract: Along with the rest of society, education is increasingly becoming corporatized, commodified and economized – a situation particularly acute within higher education. Universities spend considerable resources on recruiting students, promoting why students should attend university but arguably spend far less on how they enable students to be effective and well-adjusted learners. The strain of the digital age and a metrics-driven culture further exacerbates this situation. All this is set within the context of the perceived pressure students face to attend university in the first place. Societal pressures and social isolation appear to be creating a perceptible lack of wellness more generally. The keynote contends that art of all forms can play an effective role in health and wellbeing but until the field grows in confidence in how art provides evidence, change will be slow and confused. The artist-educator-researcher has much to gain from more fully understanding art as research, positioning art as the topic, process and outcome of research. Significantly, art as research recognizes art objects as full participants and uses art as evidence to authentically honour what is unique about art and artists – a future paradigm for applied arts and health education.
10.10 – 10.20                         Break
10.20 – 10.40                         Kristin Berre Ørjasæter (Nord University): Performing arts as a free zone supporting recovery processes in a Norwegian mental hospital
10.40 – 11.00                         Barbara Groot-Sluijsmans (Amsterdam Public Health Institute, Amsterdam University Medical Centre) & Lieke de Kock (Leyden Academy on Vitality and Aging): The invisible force: active ingredients of arts-based initiatives for older people
11.00 – 11.10                         Break
11.10 – 11.30                         Aase-Hilde Brekke (Nasjonalt kompetansesenter for kultur, helse og omsorg): Learning Life Skills in the Kindergarten through E-learning?
11.30 – 11.50                         Leah Burns (Aalto University) & Dohee Lee (Aalto University): A critical-pragmatic approach to addressing ethics, aesthetics and impact in art and design for health and well-being
11.50 – 12.05                         Christina Grape Viding (Uppsala University): Self-chosen arts-based activities for health care staff – an ecological approach
12.05 – 12.15                         Summary of the day
We invite all network members to join the two-day event with keynotes and presentations  together with your Nordic arts & health colleagues!